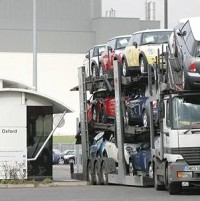 A car-making plant in Oxford celebrates its 100th birthday today.
More than 11 million vehicles have been produced at the Cowley plant in Oxford, which on March 28, 1913 produced its first ever car - the Bullnose Morris Oxford.
Owned by one of the great names of British motoring, William Morris, Cowley became a world-famous factory producing iconic models including the MG, Austin and then the original Mini - and has been on ajourney ever since.
In its century of being open, the factory has seen its ownership change, from Mr Morris' direct ownership, then through Morris Motors, to merging with rival Austin to form the British Motor Corporation.
In more recent years the company went on to merge with Jaguar and the Leyland Truck Company before becoming associated with Rover, and sold to British Aerospace in 1988.
Since then, BMW has taken over, dropping its old Cowley name - referring to the factory as Plant Oxford, which now specialises in the production of the BMW-owned modern Mini.
Today, Oxford employs 3,700 staff who manufacture up to 900 Minis a day.
Copyright Press Association 2013