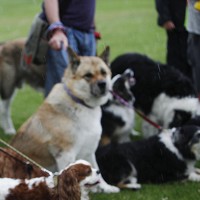 Animal welfare officers have revealed that two dogs died after being left in a hot car in Inverness.
The deaths have prompted the Scottish SPCA to warn pet owners not to leave their animals in the sun.
Charities say that dogs should not be left in cars at all, amid forecasts that temperatures were due to reach 26C.
Glass windows magnify the heat of the sun, meaning animals are "boiled", according to the animal welfare charity.
Scottish SPCA chief superintendent Mike Flynn said: "Many people don't realise just how dangerous an act this is - we are getting reports of it happening all over the country.
"The dog will pant to try to cool down, which can lead to severe dehydration and hyperventilation. The body temperature of the animal will increase to the point where it is effectively boiled alive from the inside."
In 2008, a pet owner was hit with a £400 fine after going to the cinema, leaving two dogs in the car. The animals survived after being fed through a drip, despite their body temperatures reaching 41.5C.
Mr Flynn said: "Causing an animal unnecessary suffering is an offence and, as such, you can be fined and even banned from owning animals."
Copyright © Press Association 2009