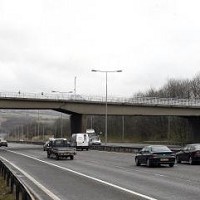 Significant improvements must be made to northern England's network of roads and railways if the region is to become an economic powerhouse, according to the Institution of Civil Engineers (ICE).
The institution has told the National Infrastructure Commission that a complete overhaul of the North's entire transport network is required if the potential for growth is to be fulfilled.
Richard Threlfall is chairman of ICE's northern powerhouse appeal and head of infrastructure at KPMG. He says although the region offers huge opportunities for economic growth, that potential will not be maximised unless the network of roads and railways connecting its cities and towns is significantly improved.
ICE says the network as a whole - rather than just individual roads and train lines - needs to be reviewed and improved if Chancellor George Osborne's vision of a northern powerhouse is to become a reality.
Road and rail journeys between urban areas as well as to and from the region's airports, ports and other major assets also need to be improved and guarded against the threat of extreme weather, ICE adds.
The National Infrastructure Commission was set up by Mr Osborne in part to look at ways to improve the links between the North's towns and cities.
Copyright Press Association 2016. Motoring News articles do not reflect the RAC's views unless clearly stated.