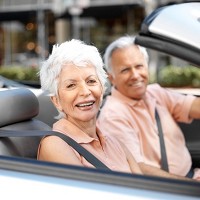 The over-60s appear to be embracing in-car accessories, according to new research.
Around two out of every three motorists with in-car digital radio are in the over-60s age group, the survey by carfinance247.co.uk revealed.
And the age-old in-car accessory furry dice are said to be making a comeback, with over-60s again embracing its resurgence.
More than one in five respondents to the poll admitted to having furry dice in their car, with the over-60s group the third most popular age band for owning them.
Other results from the poll include the finding that 37.5% of motorists overall have an in-car hands-free telephone system, although more than double the amount of men (47%) than women (19%) claim to have one.
Just 4% of motorists said they have in-car TV, with 5% of men and 2.7% of women saying they have that feature in their vehicle.
The findings make interesting reading from a car insurance point of view, given that motorists with the latest gadgets will want to ensure that they have appropriately comprehensive cover to provide full peace of mind.
Copyright Press Association 2013