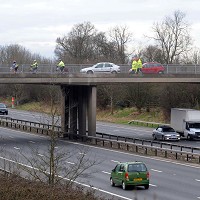 Thousands of Britain's road bridges are not fit to carry heavy vehicles, an investigation by the RAC Foundation has revealed.
A total of 2,375 bridges spanning over 1.5 metres are rated as inadequate when it comes to the heaviest vehicles, such as lorries of up to 44 tonnes, representing 3% of the estimated 71,000 local road bridges nationwide.
"Highways maintenance doesn't start and end with filling in potholes though that in itself is a big enough job," says RAC Foundation director Steve Gooding.
"Another key responsibility for councils is to keep their highways bridges up to scratch. Four years ago the Hammersmith Flyover in London had to be shut to traffic because it had deteriorated badly. It caused major congestion and was a graphic illustration of what could happen if our national infrastructure is not adequately maintained."
The charity is calling on Chancellor George Osborne to provide more money to fund bridge maintenance.
It estimates it would cost approximately £328 million to refurbish all of the inadequate bridges to top condition, equating to £138,000 each.
"Councils are doing their utmost to keep their structures inspected but where they find fault the price of repair can bust the hard-pressed maintenance budget," adds Mr Gooding. "We hope the Chancellor has this in mind as he completes his spending review calculations this month."
Motoring News articles do not reflect the RAC's views unless clearly stated.
Copyright Press Association 2015