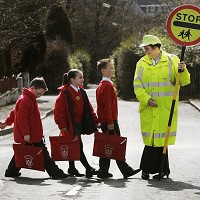 The school run could become a thing of the past if the Government follows the advice of UK's leading public health expert.
Professor John Ashton says parents should be banned from driving their children to school gates.
Newjourney planner legislation is necessary to help stem a rising tide of childhood obesity, he said.
Prof Ashton, the newly-appointed president of the Faculty of Public Health, said those parents who felt compelled to drive their children to school should be forced to drop them off a few hundred yards away - so the pupils got at least a small amount of exercise.
He said latest figures suggest one in three children is overweight or obese by the time they leave primary school and fears of a "nanny state" should not stand in the way of strong Government action.
The Government should be "strictly prohibiting" cars stopping off pupils outside school, he told The Times, and instead "have drop-off points, if at all, a few hundred yards away so at least the children get to walk a quarter of a mile each day".
Copyright Press Association 2013
Journey Planner http://www.rac.co.uk/route-planner/