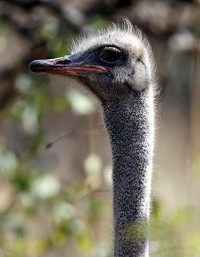 One of two ostriches that went on the rampage after the pair escaped from a Cheshire farm has been killed on a motorway.
The 4ft tall birds went on the run in Helsby, Frodsham, after escaping. And one of the ostriches strayed onto the M56 and died after it was struck by a Heavy Goods Vehicle.
Police said the driver, from Wrexham, North Wales, was not injured in the accident but his vehicle was damaged.
Officers took two hours to recapture the other ostrich and eventually managed to contain it in a field at 2.30pm, after which it was returned to its owner.
A Cheshire Police spokeswoman said: "Despite officers' best attempts to contain both animals one of the creatures made its way onto the M56 and was in collision with a Heavy Goods Vehicle.
"The RSPCA, the owner of the ostrich, and police patrols contained the second ostrich in a field and it was returned to its owner."
The public is warned not to approach the birds, which are known to be aggressive if they feel threatened.
Ostriches are the largest living species of bird and cannot fly, but are believed to be able to run up to 45 mph.
Copyright © Press Association 2009