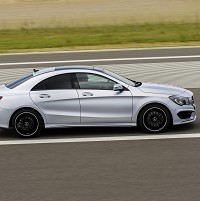 Motorists have begun placing orders for Mercedes' new four-door saloon, the CLA-class.
Drivers will be able to take to the road in the new coupe-like model from £24,355 and face a choice between a 1.6-litre petrol engine or a 2.1-litre diesel one.
The petrol version is priced from £24,355 though the diesel engine, which boasts lower emissions, will cost £5,000 more.
The CLA-class comes in two trim lines, the Sport and AMG Sport, making the latter's diesel version the most expensive model in the range at £31,555.
Though sporty-looking and aimed at younger drivers, the saloon comes with a roomy boot and can accommodate five people.
Motorists opting for the Sport will get an array of features including parking and automated braking assist systems, sat-nav pre-wiring, Comfort Suspension, Bluetooth, dual zone climate control and twin polished exhaust pipes.
The AMG Sport, meanwhile, will come with sport suspension, five-spoke alloy wheels, flat-bottomed steering wheel and a different grille design.
Copyright © Press Association 2013