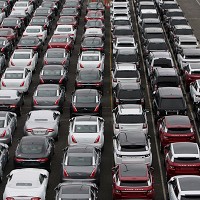 Conditions in the UK automotive market are the most positive they have been in the last four years, according to used vehicle wholesaler Manheim.
Manheim has seen volumes at its auctions rise by nearly 20% in the first four months of 2013.
The higher consumer demand for both new and used vehicles is thought to have been triggered by attractive new vehicle offers and an increased availability of finance deals.
This has lead to a stronger than expected performance across the entire automotive market, which has a knock-on effect to boost the breakdown and car insurance industries.
To accompany the positive news, the Bank of England's recent upward revision of its economic growth forecast for 2013 has added a further sense of optimism for UK businesses.
For the first time since 2009, the SMMT figures show that sales to private buyers have outstripped fleet sales.
With a 32% increase in vehicle purchases compared to the same period in April 2012.
The used car wholesale market has also benefited from the renewed confidence in the new vehicle market.
Manheim has reviewed sales on a like-for-like basis of both vendors and used vehicles, and it has concluded that the wider wholesale used vehicle market has seen an 8.5% increase in sales.
This compares the number of used vehicles sold through auction in the first third of 2013, compared to the same period of 2012.
Copyright Press Association 2013