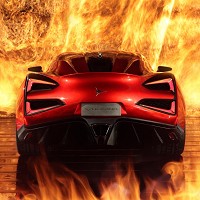 A Û3 million supercar that is capable of hitting 216mph is set to make its UK debut later this year.
The Vulcano, which is made by niche manufacturer Icona, will feature at the Salon PrivŽ show in September within a 'concepts and prototypes' display.
Using an advanced V12 petrol engine with an electric hybrid system, the one-off supercar produces as much as 950 horsepower.
It can accelerate from 0-120mph in under nine seconds, making it faster to that speed than most family hatchbacks are to 60mph.
"Icona is a very exciting new brand and we are delighted that it has chosen Salon PrivŽ for the UK debut of the Vulcano," said Sales Director David Bagley. "It's a beautiful car and it is going to look fantastic within the Concepts & Prototypes Display."
With Claudio Lombardi, formerly of Ferrari, the chief engineer behind the Vulcano, you just know it's going to be impressive.
Tickets for the Salon PrivŽ show are still available, allowing car lovers the chance to get a sneak peak at the ultra-exclusive and incredibly high performance supercar.
Copyright Press Association 2013