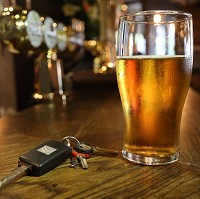 More than one in 25 motorists asked to provide a breath test over the Christmas period were found to be over the alcohol limit - the highest number in three years.
National roads policing spokeswoman, Chief Constable Suzette Davenport, says a more "intelligence-led" approach contributed to the rise in positive drink-drive tests.
But the RAC urges that more still needs to be done to eradicate such behaviour from our roads.
A total of 133,996 samples were taken in England and Wales last month, with 5,885 motorists - or 4.39% - testing positive. That's a significant increase on the figure for December 2013, when 3.42% of drivers failed a drink-drive test.
RAC spokesman Simon Williams said: "While many high profile government publicity campaigns over the years have helped to make drink-driving socially unacceptable, more still needs to be done and it is vital that society as a whole - from government through to every individual - takes responsibility over this issue.
"If you're over the limit and behind the wheel, the car becomes a lethal weapon and you have no control over it. Any death caused by drink driving is needless and totally avoidable, which is why it is encouraging that the police are working more effectively to stop people suspected of being over the limit and that these figures are no doubt a reflection of better policing methods, rather than an increase in the number of people drink driving."
Those aged 25 and over were less likely to be caught driving under the influence than younger drivers, with 6.33% of under-25s failing their test.
Chief Constable Davenport said 60,000 fewer breath tests were carried out in December last year compared with the same month a year earlier because officers were now using "targeted testing" to help officers catch offenders more efficiently.
She added that officers have a very clear and simple message for drunk drivers, which is that they are putting their own lives and those of others at risk - and that they may have to bear the consequences for the rest of their lives.
Copyright Press Association 2015