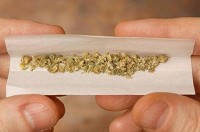 Nearly one in 10 motorists admit they have driven after taking drugs - of which a fifth have had an accident or near miss.
And despite the proven danger, half continue to drive while under the influence, according to Auto Trader Compare.
In a survey of drug-drivers, a quarter said they "feel fine to drive" after taking illegal drugs such as cannabis, cocaine and ecstasy, while 7% believed they could "handle their drugs".
Meanwhile, a third said they drive slowly and carefully after taking drugs, and 15% said they would only drive short distances.
Motorists most likely to drug-drive were those who had enjoyed a night out with friends, followed by those who had been to a party, gone clubbing or attended a rave.
Meanwhile, 97% of the 2,000 motorists polled said they would not be happy to be a passenger in a car driven by someone who had taken drugs.
A total of 30% believed that drug-drivers should be automatically jailed, and 36% said they should be banned from driving for life.
Said AutoTrader spokesman Ian MacDonald: "These survey results are shocking. Our advice to motorists is that when you drive, please just keep a clear head."
Copyright © Press Association 2009