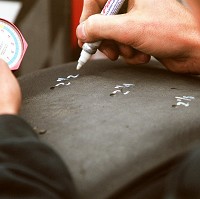 High-tech system means motorists can have their tyres checked without stopping the car
As many as 25 motorists' lives could be saved each year, thanks to a new high-tech system which checks tyre pressure.
In addition, the technology, which is being tested at a northern motorway services, could prevent up to 1,500 serious road injuries.
The UK-developed system means that motorists can have their tyre pressure checked on the go without facing the traditional need to stop and do it themselves.
The M6 motorway's Keele Services is trialling the system.
Drive-over
Drivers pass over the WheelRight drive-over network of sensor plates and get their tyre pressure automatically measured and recorded.
A connected display tells the driver if they need more air in their vehicle's tyres. That's because it is linked to a camera which automatically recognises a vehicle's number plate.
It conveys its findings directly to the motorist or fleet operators via SMS or print-out.
The system can also assess a vehicle's tyre temperature, weight and load distribution.
Investors behind the system hope it could persuade motorists to check air pressure in their tyres are at correct levels far more often.
Wrong tyre pressures are annually behind 25 deaths and 1,500 bad injuries on the UK's roads each year. This makes it a prime cause of domestic highway accidents.
Simple, convenient, fast
Around one in eight UK drivers (12%) have dangerously under-inflated tyres, while 86% have wrongly inflated ones, according to latest statistics.
The system could save money as well as lives. Correctly inflated tyres can slash 5% off a motorist's fuel bills .
Conveniently, air lines are positioned near to the network so that motorists can apply more air to their vehicle's tyres if needed.
The network could "dramatically" alter motorists' behaviours and the whole driving culture, according to chief executive of WheelRight, John Catling.
Mr Catling said that improved tyre supervision would lower fuel consumption, as well as the necessity to get new tyres so frequently. He said that the WheelRight innovation is simple, convenient and fast.
Copyright Press Association 2015