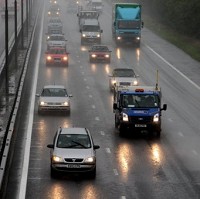 Having only just reopened after repair work, the M4 motorway will today see the first Olympics traffic-only lane come into operation.
The so-called Olympics Games Lanes will be a total for 30 miles long and will be marked and open for set hours each day - with other traffic able to use them outside of these times.
Drivers who use the lanes when they are restricted will face a £130 penalty charge.
There were concerns that the work on a damaged flyover by junction 2 might not be completed in time for the lane to open on schedule, but the work was eventually finished in time for the M4 to reopen on Friday.
The lane will be operational between 5am and 10pm and has been opened before the start of the Games to ease traffic problems as Olympic arrivals start pouring into Heathrow. The rest of the Games Lanes will be operational on 25 July - two days before the opening ceremony.
The M4 itself is part of a series of roads designated the Olympic Route Network (ORN), designed to provide access for athletes and officials during the Games and improve transport between the Olympic Village and Heathrow.
Copyright © Press Association 2012.