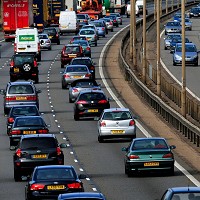 Pollution levels in London throughout the duration of the Olympics are set to be monitored by new technology developed by researchers at the University of Leicester.
Organisers expect this year's Olympic and Paralympic Games to attract around 11 million visitors to the capital, which could result in a peak of 3 million extra daily car journeys, leading to increased levels of pollution.
Researchers will use CityScan technology to analyse increased traffic to reveal the days and times when pollution levels are at their maximum levels.
The new technology collects scattered sunlight to examine air quality and can methodically plot levels of pollution down to individual buildings and roads, improving on earlier equipment which could only accurately identify hotspots.
The scheme was revealed during the third annual Universities Week campaign, which aims to publicly highlight the diverse roles undertaken by the UK's universities with a topical emphasis this year on the Olympics and sport in general.
Copyright Press Association 2012