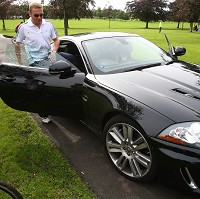 British Olympic cycling hero Sir Chris Hoy has swapped velodromes for the motor racing track in his pursuit of sporting glory.
Sir Chris - a six-time Olympic champion - spoke of the "huge buzz" that competing in the Radical SR1 Cup series for novice racers is giving him.
Having retired from cycling most of his time is taken up by developing his own range of Hoy bikes but Sir Chris is still competing, albeit in a car.
And with the cars reaching speeds of more than 130mph, Sir Chris will have had to take out a specialist car insurance policy to cover his activities.
Sir Chris said he'd always been a "massive" motorsports fan and had always wanted to try it but had never had the opportunity because of the demands of his cycling.
He said he had signed up for the series, run by manufacturer Radical, after taking part in a celebrity race ahead of the Melbourne Grand Prix.
He said: "I'm lying fourth overall in that at the moment and it's just a huge buzz.
"It does replace that feeling of competitiveness that some athletes really miss when they finish. The biggest thing about it is that focus and concentration."
Copyright Press Association 2013