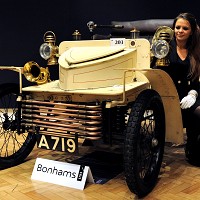 What is thought to be the oldest Vauxhall car in existence is to go under the hammer on Saturday and is expected to be sold for up to £80,000.
Bonhams in London will be auctioning off the 1903 two-seater Vauxhall.
The cream-coloured car with a brown leather interior was ordered on November 6, 1903 by Vauxhall's managing director at the time, Percy Kidner.
Less than a year later, Kidner sold the car in April 1904 to Dr Dudley Bernhardt of Marylebone, London.
Ever since that transaction the automobile has stayed in the Bernhardt family. They used the car regularly until 1920, when it was given a new bonnet and radiator.
After the Second World War, interest in the car grew and it was exhibited at the London Science Museum in 1955.
Vauxhall Motors at Luton in Bedfordshire helped the London Science Museum update the car, which participated in the London to Brighton race. The vehicle was given a major overhaul in 2001/2002.
Copyright Press Association 2012