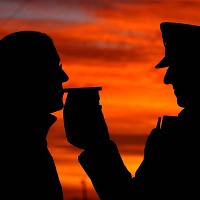 Research shows adults aged between 45 and 64 drink and drive more often than 17 to 24-year-olds.
An RAC report found 32% of 45 to 64-year-olds admitted to driving when they thought they might have been over the drink-drive limit, compared with 24% of 17 to 24-year-olds.
The younger drivers were also more confident about knowing how much they could drink and still remain a "green" driver, with 36% saying they knew the limits. However, only 25% of other motorists were as confident.
While 17 to 24-year-olds might not be drink-driving, a quarter admitted to occasionally sending text messages behind the wheel and 5% said they were frequent texters.
Alarmingly though, 10% of 17 to 24-year-olds admitted they had been under the influence of drugs while driving.
RAC motoring strategist Adrian Tink said: "This year's report clearly shows a generational divide among motorists as regards their vices. Younger drivers have many good habits that bode well for the future of motoring, but their attitude towards drug-driving is worrying, particularly as the number of fatal accidents involving drugs has increased by 28% in recent years."
Copyright © Press Association 2009