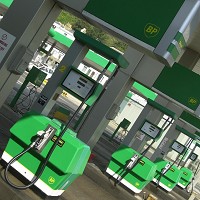 The price of oil has risen to more than $70 barrel as a result of signs that demand will increase due to a global economic recovery.
Benchmark crude rose to $70.18 a barrel for September delivery in Singapore and is expected to challenge its eight-month high of $73.23 in the next few days.
The soaring oil price follows recent strong gains on the global stock markets amid positive a number of economic statistics.
Energy analyst with Purvin & Gertz in Singapore, Victor Shum, said optimism for economic recovery is currently winning the battle with weak fundamentals.
As confidence grows that the recession is losing pace in the US, oil prices have rocketed to more than double the figure from March of below $35 a barrel.
The cost at the petrol pump has followed the trend, with drivers seeing the average price of a litre of unleaded petrol hit £1.02 last week.
Copyright © Press Association 2009