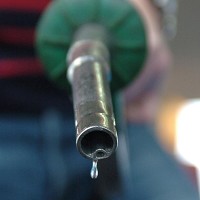 Motorists are being advised to take advantage of cheap fuel while they can, as petrol prices look poised to rise once again.
The RAC Fuel Watch report for January suggests the cheap fuel market may have bottomed out.
"Motorists have seen petrol and diesel prices reach their lowest points since 2009," says RAC fuel spokesman Simon Williams.
"January saw the oil price go into free fall with talk of a barrel dropping to $20 and possibly even to $10, but since the low of $26 a barrel the market has started to creep back up. If this continues for a sustained period, wholesale costs will rise further which will in turn lead to pump price increases."
The barrel price of $26 on January 20 represented a 12-year low, but it rebounded to finish the month at $33.12 - just $3 below where it started at $36.54.
Both petrol and diesel wholesale costs have consequently risen again, although diesel still remains 3p a litre cheaper than unleaded.
UK motorists paid an average of 105.99p a litre for diesel at the start of the year. By the end of January, this had fallen to 101.05p.
In comparison, petrol only fell from 102.69p to 102.01p.
The cost of filling a 55-litre family diesel car came down by £2.72 to £55.58, as the average price of diesel edges ever closer to the £1 a litre milestone. But early signs of an oil price recovery may prevent this from happening, also pushing up the price of petrol.
"However, the oil market is notoriously volatile, even in more stable economic times, so it's still possible that the price could drop back again," adds Mr Williams.
"And, even if there is a rise in the oil price, it seems unlikely that it will be drastic as OPEC seems set to continue producing more oil than is demanded to retain its market share. While there has been talk of a production cut, the market has yet to see evidence of this.
"The other factor which is not helping the situation from a motorist's perspective is the fact that the pound has weakened significantly against the dollar from $1.47 at the beginning of January to $1.42 by the end. This has undermined some of the benefit of the falling oil price and, with oil traded in dollars, this could prove to be even more harmful if the pound continues to lose value against the dollar while the oil price goes up."
Copyright Press Association 2016. Motoring News articles do not reflect the RAC's views unless clearly stated.