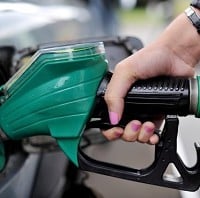 Motorists could see the cost of filling up their vehicles plunge to an average of just 86p a litre if oil price predictions become a reality, according to the RAC.
With Brent crude now being sold for $30.41 a barrel - the lowest price for 12 years - various financial institutions are predicting that barrel prices could fall to as little as $10.
The RAC says while that could spell good news for drivers, it also further highlights the amount they are paying in fuel duty and VAT.
Simon Williams, the organisation's fuel spokesman, says: "This latest prediction of oil hitting just $10 a barrel would have the potential to take petrol prices down to around 86p per litre - the last time we saw average prices this low was in early 2009. However, for prices to get this low the pound would have to get no weaker against the dollar than it is today.
"As global oil prices continue to slide, they expose just how much British motorists are paying purely in tax at the pumps. It is worth remembering that even if oil was almost given away, motorists would still be paying fuel duty and VAT. At $10 a barrel, tax would account for around 84% of the total price per litre - a clear indication of just how high a proportion of every litre we buy goes straight to the Treasury."
Copyright Press Association 2016. Motoring News articles do not reflect the RAC's views unless clearly stated.