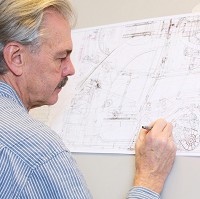 A Dutch oil giant is spearheading the search for a new green, ultra-compact city car.
Shell is financing the so-called "Project M" initiative with the results expected before Christmas.
But motorists do not have to wait until then to achieve lower fuel consumption in the car they already have. There are 10 golden rules to saving petrol or diesel including switching off their air-con and proper tyre maintenance.
Winning combination
Shell's scheme reunites Grand Prix motorcar designer Gordon Murray and engine expert Osamu Goto.
The last time the trio collaborated was back in 1988 when their partnership powered a Shell-fuelled McLaren-Honda to victory in the constructors' championship.
The Formula 1 triumph was built around drivers Ayrton Senna becoming champion and Alain Prost runner-up. The pair won every Grand Prix raced that season - bar one.
This time the emphasis is totally different with Professor Murray looking for something far more economical than his old McLaren F1 gas-guzzling speed machine in his chief designer post.
In recent times he has been working on projects comprising smaller, more frugal motoring solutions.
Practical and simple
Project M aims to utilise the potential of Shell's latest groundbreaking lubricants and fuels, which have been heavily involved in the programme to find a "practical", "simple" city car for worldwide usage.
The oil giant's quest for a congestion-reducing motor that is within the budget of the ordinary motorist has so far encompassed engine high-tech, advanced aerodynamics and lightweight engineering.
Shell's lubricants technology vice-president Selda Gunsel said that the company is "excited" about collaborating with "top calibre" partners, including Prof Murray and Goto.
Gunsel issued a general invitation to other would-be partners who might be able to help to join Shell on the last few steps of its project.
The company thinks that the new vehicle will show how efficient cars can become when Shell operates in tandem with engine and vehicle constructors during manufacture and design. This is through offering technical know-how and fuel.
Copyright Press Association 2015