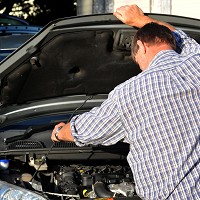 Almost half Britain's drivers do not know why car engines need oil, new research claims.
And when it comes to checking oil levels an amazing 75 per cent of motorists haven't got a clue how to do it, the study found.
Mobil 1's researchers found that though many have a keen eye for ways to cut spending they are not so sharp when it comes to reducing motoring expenses by improving fuel economy or findingbreakdown cover .
The research on engine maintenance and servicing habits revealed that 94 per cent of drivers do not know that using the right oil can improve fuel economy and greatly extend the life of their engines.
Dan McGoldrick, Field Marketing Advisor UK, Nordic and Benelux for Mobil 1 makers ExxonMobil Lubricants & Specialists, said: ''Our aim is to help make drivers aware that checking oil is essential for keeping cars running smoothly and efficiently.''
As well as using more fuel than necessary staying in the dark about ways to improve their vehicles' performance means drivers could be left open to costly engine problems in the long run.
Copyright © Press Association 2012