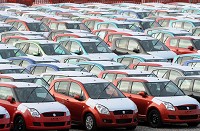 An investigation has been launched after concerns were raised that thousands of motorists have bought second hand cars from official dealerships which had previously been used as rental vehicles.
Around 70,000 people complained last year to Consumer Direct, with issues ranging from defective vehicles to misleading selling.
Some buyers reported being told their car had "one previous owner" when in fact they had been rented out to many drivers. It is believed that many paid over the odds for their cars.
The Office of Fair Trading (OFT) has opened the investigation into the second-hand car market, estimated to be worth around £35 billion per year. It will study why the level of complaints is so high and consider whether existing legislation to protect customers is strong enough.
The study will focus on sales by dealers rather than private sales between individuals. An OFT spokesman added that the cost of car clocking is estimated to be around £100 million per year.
Copyright © Press Association 2009