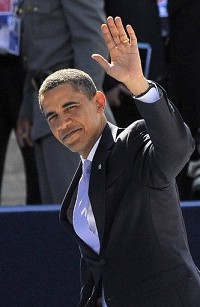 A UK green motoring company and its American partner will benefit from a new £39 million grant, given by Barrack Obama.
Coventry-based Modec, which manufactures electric delivery vehicles, will use the cross-Atlantic deal with US truck company Navistar International Corporation to provide a zero-emission alternative for urban-suburban deliveries.
The cash injection announced by the US president will allow the new Modec-Navistar venture to produce the electric Class 2c-3 commercial vehicles, created by Modec, across North, Central and South America.
Since its formation in 2004 Modec has developed international dealers in seven countries and the eco-friendly vehicles are already used by businesses such as Tesco, FedEx and UPS.
Modec chief executive Bill Gillespie added: "Modec is delighted to be finalising a joint venture with Navistar.
"The positive impact on Modec and the electric vehicle world will be significant and this is a 1 sign of evolution in the automotive industry."
Navistar chairman, president and CEO Daniel Ustian said: "The future is now with this electric vehicle. In fact, we already have interested customers, including some of the most respected names in the industry."
Copyright © Press Association 2009