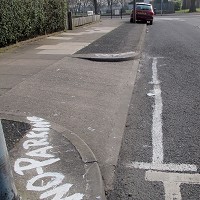 A 72-year-old woman has been told she will have to pay for the removal of 'no parking' signs she organised to have painted on the pavement outside her house.
Her local authority, Birmingham City Council, says she defaced property belonging to the public with the signs and white line - and will have to pay to have them washed off.
It is thought the pensioner who lives on Culmington Road in Longbridge, Birmingham, paid £200 for the unauthorised markings to be painted on the pavement to deter people from parking on it and blocking her driveway.
But a city council spokesman said such signs can only be placed by a qualified contractor. He said anyone wanting road markings on public property should make a request to the council and certainly not do it themselves.
The markings will be removed and the bill will be sent to the person who owns the property, the spokesman said.
Copyright Press Association 2015