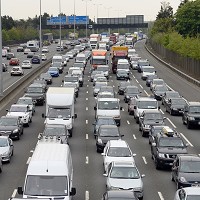 Cyclists often look for short cuts to get to their destination in better time, but one elderly rider chose arguably the most dangerous short cut of all - the M25.
Motorists and police were stunned to see the 74-year-old lady pedalling along the hard shoulder of the motorway between junctions 10 and 11 in Surrey.
According to the county's police force the woman, from nearby New Haw, was escorted off the motorway and received a £50 fixed penalty.
She was using the motorway as a short cut and was going in the same direction as the traffic, according to a Surrey Police spokesman.
He said the officers put the woman and her bike in their patrol car, advised her of the dangers of cycling on a motorway and released her safely on a more appropriate road for cyclists.
Amazingly she wasn't the first person to ride a push bike on the M25. In June police arrested a Ghanaian man, 44, for cycling on the hard shoulder of the motorway. They also found that his immigration visa had expired.
Copyright Press Association 2014