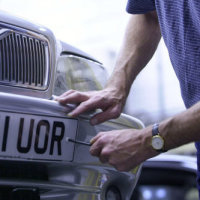 Hundreds of motorists a week are having their vehicles' number plates stolen, new RAC research shows.
The findings have prompted the motoring organisation to call on drivers to keep their vehicles secure and think about investing in tamper-proof number plates.
Figures obtained by the RAC through Freedom of Information (FOI) requests show that more than 20,700 number plates - an average of 56 per day - were stolen in England and Wales during 2014.
Stolen number plates are often fixed to vehicles of the same make and model by criminals attempting to make them more difficult to trace.
RAC spokesman Pete Williams says: "Number plate theft is unlikely to happen in isolation, and goes hand in hand with other types of crime such as motor vehicle theft and burglary.
"So instances of number plates being stolen are probably symptomatic of a wider issue that police forces are no doubt well aware of.
"To reduce the chances of becoming a victim, motorists can take steps such as purchasing tamper-resistant number plates or screws, and parking their vehicle in as secure and well-lit location as possible. Sadly though, if a motorist is unlucky enough to get caught out, the onus will be on them to prove their innocence."
Although the number of number plates stolen is 12% down on 2010's total, the problem has worsened in areas covered by seven forces, including the West Midlands, Derbyshire, North Yorkshire and South Yorkshire.
There were 80% less thefts in Warwickshire, though, with the Cheshire, Surrey and Thames Valley forces also reporting large reductions.
Mr Williams says the overall figures "paint a largely positive picture", which suggests that DVLA action on the issue "has borne fruit".
A total of 34 forces responded to the RAC's FOI requests.