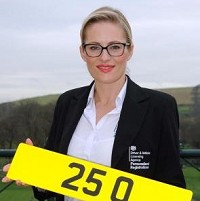 John Collins is the proud owner of Britain's most expensive number plate.
The price, £518,000, could have bought Mr Collins a whole fleet of cars.
But the Talacrest owner, who is used to dealing in big sums by dealing and collecting classic Ferraris, said he was hell-bent on winning the auction. The '25 O' personalised registration is being put on a Ferrari Lusso dating back to 1964.
But this wasn't Mr Collins' only spending for the day at the DVLA Personalised Registrations' three-day auction near Cardiff.
Three hours earlier enthusiasts at the 25th anniversary Vale Resort-based auction saw Mr Collins also scoop a 250 L registration for £130,320. This took his total spending to £648,320.
The latter plate will reside on another rare Ferrari, a 250 SWB formerly owned by guitar and singing legend Eric Clapton.
Other high sellers under the hammer so far have included CU11 ENS, which fetched £26,648, and FU11 ERS (£23,202).
Copyright Press Association 2014