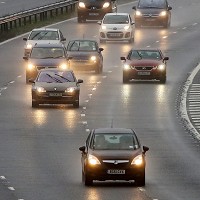 The number of deaths on Britain's roads rose in the first quarter of this year, promoting the RAC to call for an investigation into the root cause.
There were 380 fatalities in January to March this year, an increase of 13% on the same period in 2013, estimated Government figures show.
Adding this number to the total of those seriously hurt on the road, there were some 5,500 killed or seriously injured (KSIs) in incidents over the first quarter - marking a 17% increase.
Slight injuries also increased by 15% to 40,460 - taking the total casualties to 45,960 - a rise of 16% on last year.
The estimated fatality figure for the first three months of 2013 was 336, compared to 414 in 2012, and 445 in 2011. Compared to these figures, the 2014 amount of 380 is lower than both the 2012 and 2011 estimates.
However, experts do say that the large rise can partly be explained by severe weather conditions at the start of 2013 keeping many vehicles off the roads.
RAC technical director David Bizley said: "Whilst the weather must have had an impact on the lower road casualty figures for the first quarter of 2013, the Department for Transport's own recently released traffic volume data for 2014 only shows a 4.1% year-on-year increase.
"In the absence of a larger difference in traffic volume statistics, which you would of course expect if fewer vehicles had been on the road in early 2013, other factors must have contributed to the 16% rise in road casualties.
"It is therefore important that the root cause is understood and acted upon in order to improve road safety for all and reduce the overall number of casualties going forwards."
Copyright Press Association 2014