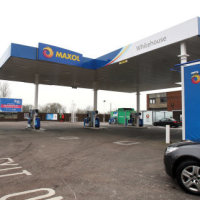 The number of UK petrol stations has dipped to a new low not seen for seven decades, according to a new report.
Drivers are facing an increasingly limited choice when it comes to petrol stations, according to the Energy Institute.
The study found that the current 8,470-plus forecourts represent only around a fifth of the 40,000 available at the start of the 1950s.
But the RAC says that on average drivers only have to travel little more than one mile to find the next forecourt.
The Institute says that around three filling stations are shutting each week, based on its 2015 figures - a rate of decline last experienced three years earlier.
The Petrol Retail Association blames the trend on supermarkets undercutting each other and the plunge in oil prices that brought petrol down to below £1 per litre.
Simon Williams, fuel spokesman for the RAC, said: "The UK currently has around 8,500 filling stations with an average of just over a mile between them, and some 70% of these are under a mile away from one another.
"The maximum a motorist would have to travel from one to another is 19 miles at Applecross in West Scotland.
"It should be remembered that one of the big benefits of electric vehicles is the ability for motorists to charge up before they leave home.
"But once they've left, they currently rely on charging points on major roads and in city centres as it is along these roads where the greatest investment in charging infrastructure has so far taken place.
"Figures analysed by the RAC Foundation show 82% of England's motorways and major A-roads are within 20 miles of a charging point, while London alone has more than 1,500 charging points.
"Coverage away from major roads is still patchy, but that is to be expected given where the greatest number of electric vehicles are likely to be.
"The Government has made grants available to local councils to set up charging points across the country, but clearly there is some way to go before motorists can enjoy the same ease of 'filling up' as they do a petrol or diesel vehicle.
"Having more charging points available will be essential in helping drivers overcome so-called 'range anxiety', where they fear running out of power before they can recharge."
Copyright Press Association 2016. Motoring News articles do not reflect the RAC's views unless clearly stated.