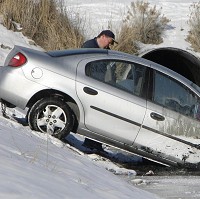 A new survey has revealed that November is the most dangerous time to drive on Britain's roads.
The study by Halfords showed the total number of road road accidents rise by an average of 1,168 in November on top of the usual monthly total of 14,908.
The study, which also revealed that November 19 was the worst day for accidents with 532 reported, raised new worries over longer periods of darkness faced by motorists this time of year.
The study showed that 25% of drivers did not change their motoring habits when the darker evenings arrived.
In addition, 20% neglected basic safety measures such as changing bulbs, batteries or windscreen wiper blades.
Failure to maintain the highest safety standards at the darker time of year could result in higher car insurance premiums if neglect leads to accidents.
Most people were right to be concerned by darker evenings but most failed to take adequate preventive action, said Halfords' commercial director Paul McClenaghan.
Halfords conducted the survey using official accident figures from the Department for Transport between 2007 and 2011 and extra research into driver behaviour.
The aim was to understand and advise drivers better over precautions and hazards at the darker time of year.
Copyright Press Association 2012