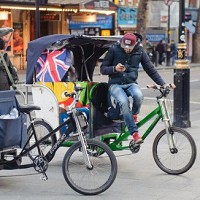 Speciality vehicle drivers could soon be subject to criminal record vetting like London Black Cab operators, if local government leaders get their way.
The Local Government Association (LGA) wants drivers of limousines, rickshaws, party buses and other novelty modes of transport to have their backgrounds checked to quell safety fears.
The LGA calls existing laws "utterly outdated" and "confusing" and wants legislation to be fit for 21st-century driving.
The call follows video footage last month suggesting one rickshaw driver asked tourists for £206 to ferry them just one mile to Marble Arch from Oxford Circus.
The LGA's proposed regulation would bring all such vehicles under one single licensing umbrella.
In addition, it would enable local authorities to outlaw operators which try and rip-off tourists and combat worries that some London rickshaws are unregulated, unsafe and not inspected.
Limousines are as popular as ever, a fact acknowledged by the LGA. Last year it was reported that one enthusiast had started building a 21ft-long one-off Beetle limousine .
But the LGA says if they are being used to ferry passengers they should be subject to the same laws as Black Cabs.
The laws which govern some modes of novelty transport are so old they even pre-date 19th-century developed internal combustion engines. The Association wants legislation surrounding private hire transport to be updated for the current century.
LGA licensing spokesman Tony Page says it remains "imperative" that vehicles and drivers alike are subjected to the "rigorous scrutiny" seen in the licensed taxi trade.
He calls the current laws a "haze", "utterly outdated" and "confusing", saying they help no-one, including operators, passengers and drivers.
Mr Page wants new legislation to be consistent so that a minority of rogue operators cannot bring the industry down.
The LGA's proposed changes would not only make passengers safe, it would also give them someone accountable to whom they could complain, he adds.
The Mayor of London's spokesperson says that Boris Johnson holds "serious concerns" regarding the pedicab industry.
Mr Johnson is calling on ministers to bring in fresh laws that could be overseen by Transport for London's officials.
Copyright Press Association 2015