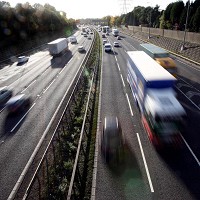 Roads in northern England may benefit from billions of pounds of investment if government plans come to fruition.
The "Northern Powerhouse" proposals, set to be outlined by ministers, would make it easier for motorists to get between the north's major cities, reducing congestion and cutting traffic to slash journey times across the region.
They include developing new east-west road connections, such as a road tunnel under the Peak District, widening sections of motorway on the M1, M6 and M62, and making improvements to the A1.
The plans, published in a Northern Transport Strategy report, were put together by the government and the newly-formed organisation Transport for the North.
RAC spokesman Simon Williams said: "The transport plans for the mooted 'Northern Powerhouse' are nothing if not bold, and brave proposals are exactly what are required to help join up the North's economic centres.
"Any motorist who regularly drives from east to west or vice versa will know just how complicated - and long - a journey can be, and these plans have the potential to finally change that. We now need some firm budgets and timescales to give motorists the confidence that such announcements are not just pre-election rhetoric."
Chancellor George Osborne and Transport Secretary Patrick McLoughlin back the proposals, which also include multibillion-pound rail schemes, and they hope to see them implemented in the near future.
Oyster-style smart travel cards and simpler fares are among the ideas to improve the rail network across the North.
Copyright Press Association 2015