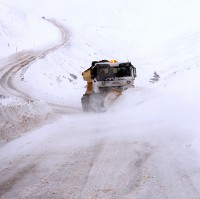 Forecasters expect a band of wet and wintry weather to bring snow, hail and sleet to parts of Britain on Friday.
MeteoGroup says the Highlands of Scotland could be covered by snow several centimetres deep by Monday morning, causing tricky driving conditions.
Cold winds will reduce temperatures close to freezing during the day and it will be much colder at night, causing sleet and hail for other areas of Scotland and Northern Ireland.
MeteoGroup senior forecaster Rachel Vince says there will be a mix of sun and showers in the two countries, with snow on high ground and hail and sleet in other areas. There was a yellow warning regarding ice covering the two regions on Friday morning.
RAC spokesman Simon Williams said: "The fact is even light snow showers have the potential to catch drivers out, so the message is prepare your vehicle now before the weather turns and save yourself an unwanted breakdown. If your car is not starting reliably every time, this could be a sign you need a new battery. As simple as it sounds, the battery's job is vital when temperatures drop and we attend more call outs for battery-related problems than any other.
"Then there are the more obvious things you can do to prepare, such as checking oil, coolant and antifreeze levels, and you have the right screen wash concentration protecting down to at least minus 10 degrees C - a year ago we saw a 67% rise in problems with windscreen washers in one month, a problem that's easily avoided with some simple maintenance."
The rain will move to the south and east and affect the south east of England until dusk, according to the MeteoGroup forecast.
The typical daytime temperatures are likely to be between 3C and 6C but it could be 9C in the south west. The mercury will dip to as low as -3C in some parts of Scotland, the north of England, East Anglia and the Home Counties.
There will be a fine but chilly start to Saturday before cloud moves over England and Wales. Northern Ireland and Scotland will have rain and the odd snow flurry, with more wintry showers in Northern Ireland, Scotland and Wales on Sunday, according to Ms Vince.
Copyright Press Association 2014