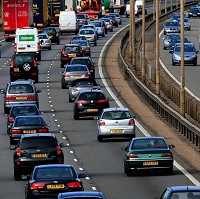 Congestion in the North West could be eased by a new bridge over the M56 near Manchester Airport.
The £5.5 million structure on Thorley Lane, which links Davenport Green to the airport, is considerably wider than its predecessor, meaning it will be able to ease traffic and potentially cut journey times by carrying more vehicles.
It will officially open to motorists on Wednesday, following a near year-long project that began with the demolition of the old bridge.
A section of the motorway was closed for an entire weekend in February while contractors working on behalf of the Highways Agency lifted the new 1,500 tonne structure into place, by junction five.
Disruption was kept to a minimum though, as the installation was completed a full eight hours ahead of schedule.
In addition to significantly cutting congestion in the region, particularly at rush hour, the new bridge might also support 3,000 new jobs by 2030, and could lead to the development of more than 5,500 homes.
Copyright Press Association 2015