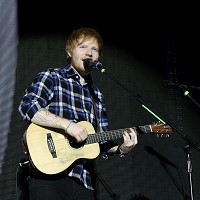 Top Gear bosses have secured a pop superstar to take a turn round the track in their r easonably priced car, there's just one problem - he can't drive.
The celebrity in question is Ed Sheeran, who hasn't got a licence and has said in previous interviews he doesn't like going too fast.
The 23-year-old, most-streamed on Spotify and among the top-sellers globally in 2014, will be given an automatic Vauxhall Astra to take around the Surrey track. Despite that, producers will surely be checking their car insurance before he hits Dunsfold Park's private track where they film the Star In A Reasonably Priced Car segments.
Ed is hot property at the moment after enjoying a hit with Thinking Out Loud and is heading for Wembley Stadium this summer for a stint of headline shows.
The chart he'll be aiming for when he takes to the track later this month has actor Aaron Paul, famous for Breaking Bad, at the top and rocker Brian Johnson of AC/DC in the number two spot.
Fans of the BBC2 car show will see it return to TV on January 25.
Copyright Press Association 2015