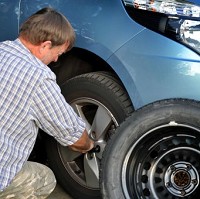 Several models of car are adopting a range of tyres that are said to significantly cut the noise levels reaching the inside of your vehicle.
"ContiSilent" technology involves bonding a coating to the inside of the tread area after the tyre is produced. The company, Continental, claims the foam layer significantly dampens noise from the tyre's movement.
Braking and handling characteristics of the tyre are not compromised, according to the company, while standard wheel rims and fitting processes can be used on the tyres both in routine maintenance and in the event of a breakdown .
Audi's RS6 Avant and RS7 Sportback models are among the first to feature the new tyre technology, and the A8 is earmarked to start using the tyres in the future.
An extra RO1 mark on the sidewall of the tyre will indicate those with ContiSilent technology.
Copyright Press Association 2013