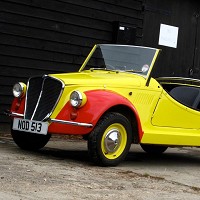 One of the most iconic vehicles on children's TV is expected to make at least £25,000 when it comes up for auction this month.
The company started by author Enid Blyton used the original red and yellow Noddy Car, complete with 'parp parp' horn and NOD 513 number plate, for promotional purposes.
It has been owned by a further three people and is a fully working vehicle, with just 4,553 miles on the clock, so its new owner should be able to arrange car insurance and drive it.
Blyton died in 1968 and a year later her company purchased a small two-seater Fiat Gamine Vignale roadster.
It was based on the Fiat 500 and built by the Italian manufacturer Carrozzeria Vignale. Its 595cc engine gives it a top speed of 65mph, just right for the little wooden boy from Toyland.
The Noddy Car will go under the hammer in Silverstone Auctions' July 27 sale and saleroom spokesman Will Smith says it is likely to be highly sought-after as it is "one of the most easily recognisable cars" in the world.
He said no other car was closer to the one Noddy drove his friends around in Toyland.
He is expecting plenty of interest from fans of Enid Blyton and Fiat enthusiasts too as the car will take many of them back to their childhood.
Copyright Press Association 2013