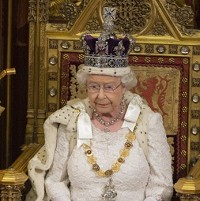 Drivers could yet face rises in car tax and fuel duty, the RAC warns following Wednesday's Queen's Speech.
While noting the absence of any future road policy details, David Bizley, the organisation's chief engineer, also highlights the possibility of indirect taxation to help the Government reduce the budget deficit.
The comments were fuelled by the announcement of steps to outlaw incomes tax rises, national insurance or VAT in the new ruling administration's lifetime.
David Bizley said: "Motorists will be disappointed to not see the Government use the Queen's Speech to further lay out its policies on roads.
"While the Income Tax Bill will protect motorists from many tax increases, the door is open for the Government to indirectly raise taxes as part of its deficit-reducing strategy - with fuel duty and vehicle tax being two possible targets.
"The Chancellor (George Osborne) has an opportunity to rule out hitting the heavily-taxed motorist even harder in the wallet at the Budget this July."
UK motorists already pay among the highest fuel tax burdens in Europe and the RAC has repeatedly called for the duty to be reduced .
Wednesday's speech to peers and MPs outlined the Conservative agenda between now and 2020. David Cameron, the Prime Minister, promised that his "One Nation" programme would bring many benefits to the UK.
These included social justice, unifying the country, delivering full employment, extending free childcare, a seven-day fully functioning NHS and housing association renters getting access to right-to-buy deals.
In addition, the speech also comprised landmark legislation which opens the door for Britons to vote by December 2017 whether they wish to stay in the EU.
There will also be fresh employment rules meaning that minimum wage staff working a weekly maximum of 30 hours will not have to pay income tax.
Further devolved powers to Wales and Scotland were also promised. Steps will also be taken to allow English MPs a final voice on laws impacting exclusively on their country at Westminster.
The Conservatives have not ruled the UK as a single party since 1997. Mr Cameron left observers in no doubt that his May 7 absolute majority will give his party the mandate to forge onwards with legislation that their former Liberal Democrat partners had previously thwarted.
The 26-bill agenda sets out to convert Conservative manifesto pledges into law.
Copyright Press Association 2015