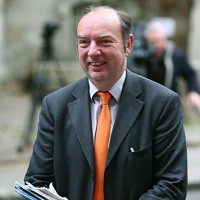 Transport Minister Norman Baker has revealed the introduction of special parking permits for drivers with temporary disabilities would cost the Government too much money.
Mr Baker said over 2.5 million blue badge holders are already afforded the freedom to park on single or double yellow lines for a maximum of three hours across England and Wales. He said giving out more permits would further strain public resources.
Councils provide permits to severely disabled motorists and passengers so they can enjoy a range of parking benefits, while blue badge holders also do not have to pay the London congestion charge.
Mr Baker said he had weighed up bringing in permits for drivers with temporary disabilities but ultimately decided against it.
"It is important that we ensure the scheme remains sustainable and protects preferential parking facilities for people with permanent disabilities affecting their ability to walk," the minister wrote in response to a question from Tory MP Fiona Bruce (Congleton).
"I recently considered the issue as part of the wider blue badge reform programme but have taken the decision not extend eligibility to people with temporary impairments."
Copyright Press Association 2013