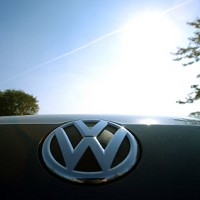 Motorists will not be left out of pocket if they are driving cars with unlawful software designed to cheat emissions tests, the Transport Secretary has pledged.
Patrick McLoughlin says such drivers will not pay a penny more in vehicle tax in the wake of the Volkswagen emissions scandal.
The German car-manufacturing giant has owned up to installing defeat device software on 11 million diesel cars around the globe.
Last week VW removed 4,000 diesel cars from sale, including Seat, Skoda and Audi brands that have the EA 189 engine in question.
Mr McLoughlin says the main thing is for British motorists to be safeguarded and have complete confidence in the diesel tests.
The amount of tax a motorist has to pay currently depends on how much carbon dioxide (CO2) their car emits. But Mr McLoughlin promised that no UK drivers will have to pay a higher rate of car tax because of the VW scandal.
British ministers have started an inquiry into the impact of the scandal in the UK. A re-testing programme has been launched to contrast emissions of vehicles in the lab with those discharged during everyday driving.
The Department for Transport's (DfT) review will involve testing resources that are not provided by the motor sector.
Mr McLoughlin says he has told governments across Europe to improve their countries' emissions testing. He also wants an investigation into use of the defeat device in the EU to run in tandem with the British investigation.
British officials are already in talks with key figures from the EU who are undertaking similar examinations in a bid to improve testing consistency.
Meanwhile, VW is to contact some 1.2 million British drivers to organise how they can have their vehicles corrected.
Copyright Press Association 2015