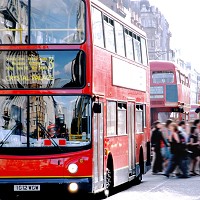 A think-tank is urging the Government to increase fuel duty and invest in public transport.
The left-leaning Institute for Public Policy Research (IPPR) said rail and bus users have been hit hard by hikes in transport costs whereas the cost of motoring has actually fallen in real terms.
A new IPPR report says that while driving costs went up 32.5% between 1997 and 2010, this was not an increase once inflation was taken into account.
In contrast, rail fares went up 66.2% while bus and coach tickets rose by 76.1% on average.
IPPR is calling on Chancellor George Osborne to end delays and implement fuel duty rises as well as an extension of congestion charging and road tolls.
Mr Osborne's concessions to drivers could cost the taxpayer £14 billion over five years, the body said
Dismissing talk of a "war on motorists", the think tank said the Coalition should prioritise spending on infrastructure for public transport.
Next year train fares will go up 6.2% on average, following a surprise jump in inflation last month.
Copyright Press Association 2012