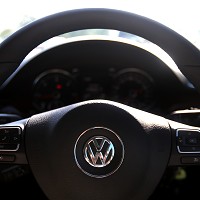 UK owners of Volkswagen vehicles affected by the emissions scandal will not receive compensation, despite previous claims that they would.
Back in December, Matthias Mueller, the company's chief executive, said an "attractive package" of compensation was in the pipeline.
But it turns out customers will not receive a penny because engineers claim there will be no difference in fuel consumption or driveability.
Paul Willis, managing director of Volkswagen Group UK, says there is no clear evidence of a negative impact on residual values.
He adds that for compensation to be paid, there would have to be a loss, something which he says there is no to expect at present.
Customers could be offered a "support package" instead. For example, an owner living in a remote area who faces a lengthy journey to get the necessary repair work done on their car could have the cost of travel reimbursed.
Affected VW owners in the US are set to receive $1,000 gift cards by way of compensation, although the manufacturer says they face a different set of circumstances.
To keep customers on side in the wake of the emissions scandal, VW has introduced a "loyalty bonus" in the UK. It offers discounts ranging from £400 to £1,500 off selected vehicles to existing owners or their family members registered at the same address who buy a new car.
Copyright Press Association 2016. Motoring News articles do not reflect the RAC's views unless clearly stated.