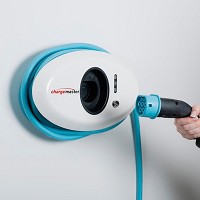 Owners of electric cars can have charging points installed in their homes for free thanks to a new scheme.
British Gas and Chargemaster are clubbing together and using Government money to develop a charging infrastructure across Britain and the move will allow anyone interested in buying a plug-in electric vehicle (EV) to have charging points put in their homes.
Charge stations have added an extra expense to the cost of electric motoring but it is hoped that the new offer and cheaper deals on electric cars such as the Renault Zoe and Nissan Leaf will see more drivers making the change.
British Gas will install the 16-Amp wall-mounted and data-enabled charging boxes, which give plug-in car owners the ability to check their power usage and set the system up to charge overnight and take advantage of cheaper electricity rates.
Not only will EV drivers be able to charge up at home, but they will also have use of Chargemaster's network of 1,800 POLAR public recharging stations in many cities in Britain, meaning they are less likely to run out of juice and need to use breakdown cover .
Motorists do not have to be British Gas customers to take advantage of the deal.
The "milestone" offer makes it the perfect time for family and friends of EV drivers to set up charge points in their properties, according to Andreas Atkins, head of electric vehicle services at British Gas.
Copyright Press Association 2013