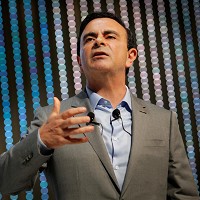 Members of the public have been given a glimpse of Nissan's new zero-emission vehicle, which is set to go on sale in Japan, the US and Europe next year.
Designer Shiro Nakamura said the environmentally friendly Leaf, which has a sporty design and a recharging opening at the front, intentionally avoided a stereotypically futuristic look.
He said: "This is not a niche car. We didn't make it unusual looking. It had to be a real car."
The car maker promised that the vehicle, which goes into mass-production as a global model in 2012, will cost around £6,000 - the same as a petrol-engine car such as the Versa.
Nissan said the car can drive 100 miles (160km) on a single battery charge and the manufacturer hopes to produce about 50,000 units at its Oppama plant in Yokohama, including export models.
Nissan chief executive, Carlos Ghosn, said that the new car and the company's new office building in Yokohama, south west of Tokyo, marked two fresh starts for the firm, which hopes to take the lead in zero-emission vehicles.
Copyright © Press Association 2009