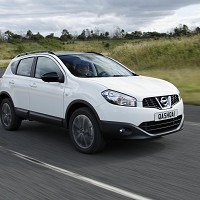 Nissan has replaced its best-selling mid-range Qashqai with a new higher-spec crossover dubbed the Qashqai 360.
The Japanese carmaker has phased out its Qashqai n-tec+ and hopes the new model will become the best-selling vehicle in its class, surpassing the market share of its predecessor.
The Nissan Qashqai 360 features the 360-degree Around View Monitor, which utilises four external cameras to display a view of the entire car when attempting to squeeze into tight parking spaces - handy for avoiding bumps and subsequent car insurance claims.
It comes with leather trim and double white stitched interior, and a gloss black theme that is featured on the gearstick and door handles and a leather armrest.
The 360 is available in all engine and transmission options, with petrol choices consisting of 1.6 and 2.0-litre trims and 1.5, 1.6 or 2.0-litre diesel options available.
Prices start at £19,945 for a 1.6-litre petrol with five-speed manual gearbox, while the cheapest diesel option costs £21,645 for the 1.5-litre 109bhp unit.
The most expensive 360 is the 2.0-litre 148bhp diesel, with four wheel drive, which will set consumers back £25,985.
Copyright Press Association 2013