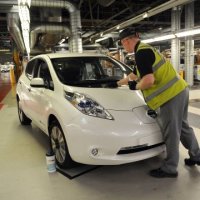 Nissan looks set to grow its electric stable in the wake of the Leaf's success.
The Japanese car giant says it could have a new sports car and crossover on the road by 2021.
Shiro Nakamura, Nissan's senior vice-president, says it is developing its latest modular platform which should adapt to alternative and conventional powertrains alike.
Nakamura says this is vital to Nissan widening its electric range beyond just the .
The Leaf has been a constant leading seller in the UK. It between January and September 2015, according to Go Ultra Low's figures. This number was only bettered by Mitsubishi's Outlander PHEV among hybrid and electric cars.
Nissan cannot settle for just a one-off electric vehicle (EV), Nakamura says in an interview with Auto Express.
The official believes the next car joining Nissan's portfolio could see new sports cars or crossovers entering the market.
Nakamura says there is far more scope than merely a hatchback for its EV range.
Nissan's dabbling in the 100%-electric sports vehicle dates back five years.
This is when it showed its Esflow concept rear-wheel-drive vehicle to the world at the Geneva Motor Show.
It could achieve 0-62 in just five seconds, despite producing a mere 107bhp.
Copyright Press Association 2016. Motoring News articles do not reflect the RAC's views unless clearly stated.