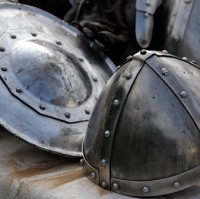 A car packed with Viking armour and weapons has been stolen.
When it comes to the victim claiming on theircar insurance , Leicestershire Police say the items are worth almost as much as the vehicle itself.
A quantity of swords, axes, helmets and chainmail armour used in Viking re-enactment battles were in the red Nissan Micra when it was taken.
The car was stolen from a Leicester street between 10.30pm on Saturday (September 28) and 1.15pm on Tuesday (October 1).
PC James Highton said: "The car contained a number of Viking swords, axes, helmets and chainmail amour, which combined are worth nearly as much as the car."
He said it is probable that the thief had no clue what the Micra contained.
Pc Highton, who is investigating the incident, added: "One of the axes is six feet (1.8m) long - not the kind of thing you would expect to find in your average toolkit."
He said such specialist items are not easily replaced.
Copyright © Press Association 2013