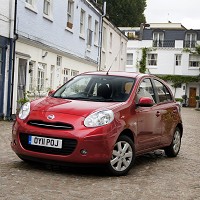 Drivers can now get behind the wheel of Nissan's Micra supermini range for just under £8,000.
The vehicle, which features an auxiliary input for MP3 players and equipment with Bluetooth as standard, is now priced at £7,995.
The entry-level Visia is available for just £99 per month on a PCP deal, leaving drivers enough funds to shop around for adequatecar insurance .
Nissan has also brought down the price of its Acenta model to just £9,995.
This includes air conditioning, a leather steering wheel, front fog lamps and 15-inch alloys on top of all the previous features for just £119 a month.
The Acenta Connect priced at £10,495 features the Connect touchscreen sat-nav system combined with Bluetooth for hands-free telephone calls and music streaming.
This is available to drivers at just £129 per month.
And Nissan is even offering its most stylish model, the Elle, for just £11,195 or £139 a month.
This high-end model, created with Elle women's magazine, features all the Acenta Connect specs alongside a glass roof, climate control, Elle badging and painted 15-inch alloy wheels.
Copyright Press Association 2012